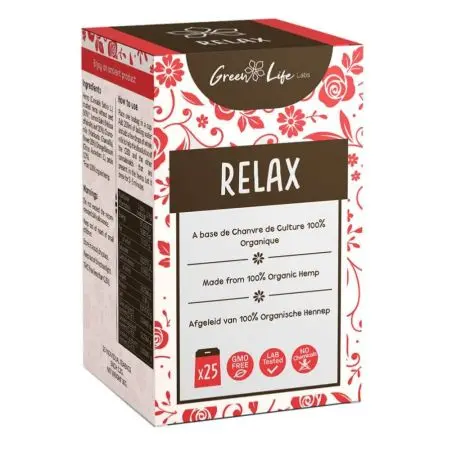 Hemp Infusion - Relax
By buying this product you can collect up to 9 loyalty points. Your cart will total 9 points that can be converted into a voucher of €0.45.
Partagez et gagnez des € (sur chaque vente).
Pour voir le lien de partage
s'inscrire ou se connecter !
CBD infusion based on hemp - Relax - Green Life labs
Relax Infusion by Green Life Labs
Properties of the Relax Infusion :
Infusion made from hemp, lemon balm, chamomile, orange blossom, plants well known to relieve or alleviate stress and anxiety.
This infusion will help you to relax.
Composition of your infusion :
The Relax infusion is packaged with certain plants traditionally used to relieve stress and anxiety:
This blend contains 50% hemp, 20% lemon balm, 20% chamomile, 10% orange blossom.
Directions for use and storage:
We recommend adding a fatty substance, a touch of milk, for a proper dissolution of the CBD present in the natural hemp.
Store in a dry place at room temperature, not exceeding 25 degrees. Do not put in the fridge.
Additional information:
All plants used in Green Life Labs infusions are 100% organically grown. The hemp is grown in the south of Spain. Totally natural, these CBD herbal teas contain no additives and no calories.
Green Life Labs certifies that the Δ9-THC content is less than 0.2%.
No side effects and no addiction.

Catégorie:
Infusion sachet

Questions fréquentes sur Hemp Infusion - Relax:

CBD infusion is a blend of plants made up of well-known flowers such as chamomile and verbena and hemp flowers in crumb form, also known as trim.

The benefits of a CBD infusion are manifold. CBD has the potential to be a natural analgesic, in other words, a substance that reduces pain, helps you to fall asleep without too much difficulty and makes for more restful, calmer nights. A CBD drink is likely to calm muscular pain after a particularly intense workout, and has anxiolytic effects to combat episodes of intense stress.

It takes about 1 to 2 hours for cannabidiol to pass through the liver and be metabolised. The speed of absorption depends on your metabolism and what you have eaten. It is therefore advisable to take your infusion 1 to 1? hours before going to bed.