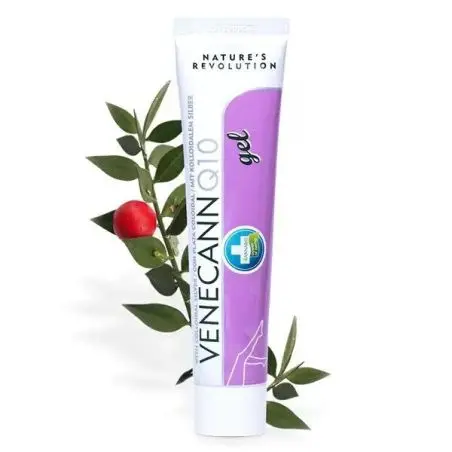 Venecann - Q10 Gel - Leg Care - Annabis
No reward points for this product because there's already a discount.
Partagez et gagnez des € (sur chaque vente).
Pour voir le lien de partage
s'inscrire ou se connecter !
Venecann - Q10 Gel - Leg Care - Annabis Body Care
Venecann

Q10 Gel
Unique combination of more than

15 active ingredients

,
including :
Hemp seed extract and hemp seedoil
Horse chestnutextract
Witch hazelextract
Extract of thorny tarragon root
Common vine
Coenzyme Q10
Ginkgo leafextract
Allantoin
Colloidal silver
Quickly absorbed, non-greasy and suitable for frequent use. Vegan .
Recommended use:
Can be applied several times during the day, as needed, especially on the legs. Keep out of reach of children.
Ingredients :
Water, Glycerin, Propylene glycol, Hemp seed extract, Horse chestnut seed extract, Denatured alcohol, Witch hazel leaf extract, Holly root extract, Hemp seed oil, European olive oil, Vine leaf extract, Tiger grass leaf extract, Ginkgo biloba leaf extract, Sweet clover extract, Dimethicone, Troxerutin, Carbomer, Triethanolamine, Tocopheryl acetate (ester of tocopherol and acetic acid), Allantoin, Diosmin, Ubiquinone (co-enzyme Q10), Hesperidin, Lemongrass leaf oil, Colloidal silver.

Catégorie: