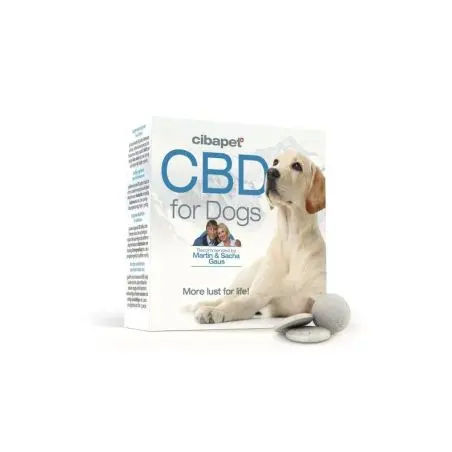 CBD for dogs - Cibapet Lozenges
No reward points for this product because there's already a discount.
Partagez et gagnez des € (sur chaque vente).
Pour voir le lien de partage
s'inscrire ou se connecter !
CBD Oil for Animals - Dog Lozenges - Cibapet
Cibapet CBD Lozenges for dogs
In addition to CBD, Cibapet lozenges contain vitamins, protein, calcium, folic acid, iron, potassium and magnesium to provide a healthy dose of supportive ingredients to keep them feeling their best.
CBD Lozenges for Dogs takes the groundbreaking research behind CBD and optimises it for your dog's unique physiology. Each pack contains 55 flavour-enhanced tablets containing 3.2mg of CBD each, which can be administered to your dog every day. What are you waiting for? Try Cibapet today and your dog will thank you tomorrow!
Your dog deserves to be 100% every day. Introducing Cibapet CBD lozenges for dogs, the solution to your furry friend's physical and emotional discomfort.
CIBAPET CBD: HOW DOES IT WORK?
Cibapet lozenges provide a potent dose of non-psychoactive CBD to support your dog's health and well-being. Dogs have a natural endocannabinoid system or ECS which can be positively influenced by cannabinoids such as CBD.

Catégorie: