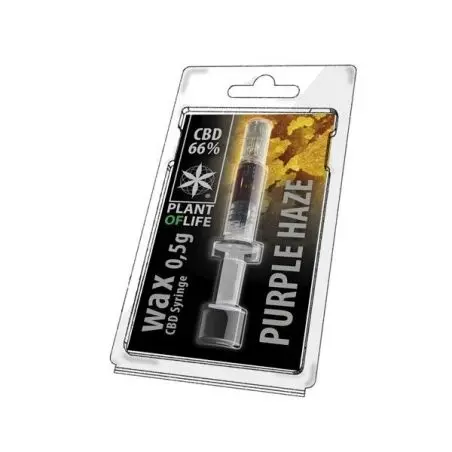 Purple Haze - Wax
Partagez et gagnez des € (sur chaque vente).
Pour voir le lien de partage
s'inscrire ou se connecter !
CBD Wax - Purple Haze | CBD 66% - CBD Extraction - Plant Of Life
Purple Haze Wax 66% CBD, Cannabis Wax Concentrate, CBD Full Spectrum
Wax is a wax, Considered the pinnacle of extraction, it is one of the most concentrated CBD products along with Crumble or Shatter. Often used in Dabbing mode, vaporized in a Bong or steam and cooled by water...
26 different Terpenes, Flowers and Fruits.
Flavour,
Purple Haze is characterised by a fruity tropical and plum note,
History,
The origins of Purple Haze date back to the 1960's, it is believed to have been developed from three breeds: Purple Thai, Haze and an unknown hybrid.
Effects,
Purple Haze is known for its powerful creative and cerebral effects.
Wax by Plant Of Life
Wax is a 100% natural extraction obtained from the tops of cannabis plants and flavoured with terpenes It is a 100% natural extraction from the tops of cannabis plants and flavoured with cannabis flowers, for the most authentic flavours in a wide range of choices.
CBD Wax 66% is a product that has passed rigorous quality controls.
Benefits :
CBD Wax 66% has a high concentration of Cannabidiolor CBD, which will provide important calming and analgesic properties. It can be consumed by vaporization or as a dietary supplement through the digestive tract.
Info:
Pesticide free products.
Manufacturing: Spain
Brand: Plant Of Life
Usage:
Vaporisation - Inhalation, requires a portable or salon (electric) vaporiser,
Food preparation, e.g. (mixed in a dish or infused with milk)
Dabbing - Spray in a bong
Legal or not?
It is 100% legal because the THC percentage is always lower than 0,2%, the maximum allowed value, that is why this product will not produce any Psychoactive Effect.

Catégorie:
CBD wax

You might like these other products...