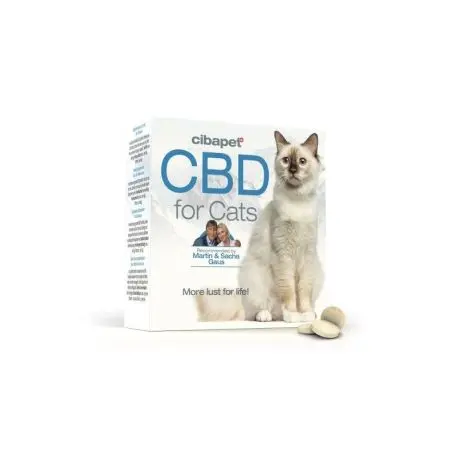 CBD Oil - Cat Pellets - Cibapet
Partagez et gagnez des € (sur chaque vente).
Pour voir le lien de partage
s'inscrire ou se connecter !
CBD Oil for Animals - Cat Lozenges - Cibapet
Cibapet CBD Lozenges for Cats
Cibapet's new CBD Lozenges for Cats> are the perfect way to provide your pet with a tasty and easy to administer tablet.
This powerful formula is designed to relieve your cat's pain and stress while supporting their natural functions.
CIBAPET: HOW DOES IT WORK?
Cibapet lozenges are made with concentrated CBD, offering your cat almost pure levels of this plant compound. Like humans, cats have an endocannabinoid system or ECS. This system is influenced and encouraged by cannabinoids such as CBD to soothe physical and emotional discomfort, while enhancing your feline's proper physiological functions.
CBD has recently been in the news for its wide range of therapeutic applications on humans and animals, leading to the conclusion that CBD is a complete supplement. Preliminary studies have shown CBD to have anxiolytic, anti-emetic, analgesic, anti-inflammatory and anti-stress mechanisms, to name but a few! In addition to CBD, Cibapet CBD lozenges are formulated with a host of other ingredients such as vitamins, proteins, calcium, folic acids, iron, potassium and magnesium. By combining these valuable ingredients, Cibapet not only offers your cat relief, but also good digestive health and energy.
Cibapet tablets are enriched with flavours and vitamins to provide your cat with a pleasant eating experience, without any side effects. The tablets can be administered daily to support your pet's overall health and well-being. Each pack of Cibapet CBD lozenges comes with 100 tablets containing 1.3mg of CBD each.
Your cat deserves the best, regardless of breed or age. Cibapet CBD Lozenges with enhanced flavour contain CBD and other additional ingredients to relieve your cat's pain or discomfort and help him relax.

Catégorie:
CBD Oil for Pets

You might like these other products...

Le blog du CBD...